Last works
Updated 01/03/2017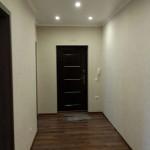 Learn More...
SERVICES
The company «Euroremont» offers a wide range of construction and finishing services, we carry out apartment repairs, construction of private houses, roofing works, dismantling, air conditioning and ventilation.
Compilation of estimates for materials. You can invite us at a convenient time and time for our specialist, and he will make for you an exact estimate of the purchase of materials that will be required to repair the apartment. This service is completely free and is not on your part any obligation.
Puttying and plastering the ceiling. Painting the ceiling in 2-3 layers.
Thorough preparation of the premises for repair work. Includes: all types of dismantling, removal of old wallpaper and tiles, leveling floors (made by self-leveling solutions SAM-200 (up to 3 cm) and leveling the walls under the ceiling level.
— Pasting wallpaper on the premises.
— Whitewashing and painting of walls and ceilings.
— Installation of windows.
— Manufacturing and installation of stretch ceilings.
— Piping of pipes.
— Replacement of radiators and painting of pipes.
— Installation of ceiling and floor skirting.
— Laying tiles.
— Laying flooring, laminate flooring, old parquet flooring, coating it with varnish or other compounds of your choice.
— Plastering and painting of window slopes.
— All kinds of electrical installation works — installation of sockets, switches, RCD systems, and installation of lighting devices.
— Replacement of interior doors.
— Installation of ventilation and air conditioning systems.
— Warming of the floors.
— Installation of noise insulation.
— Remodeling of premises. Demolition or transfer of walls.
— Construction of additional structures.
— Installation of columns and carved parts.
— Alarm setting.
— Lifting of materials.
— Taking out the trash.
 
Our specialists have extensive experience in various fields, carefully observe all technological standards and construction norms, and use only high-quality materials. These nuances allow our company to provide its customers with 24 months warranty for all delivered materials and completed. We also carry out post-warranty maintenance of our facilities.
Entrust repairing your house to professionals of our company, and you will see that repair is easy and fast!
Call +7 9814 76 07 97