Last works
Updated 01/03/2017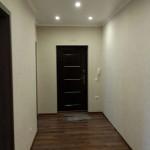 Learn More...
Electrical work in Kaliningrad
The company «Evroremont» carries out a full complex of electroinstallation works on a turn-key basis (electrical wiring, installation, connection).
We will do for you everything related to the wiring, namely:
Shtroblenie walls
Holes for mounting boxes for internal sockets,
Wiring installation,
Dismantling or transfer of the wiring,
Connection to the public network,
Installation of cable channels,
Wiring of television and internet cables,
Installation and connection of electric points,
Installation of junction box,
Installation of a duct fan,
Installation of an external electrical panel,
Installation of warm electric floors.
Connection of the machine,
Connection of cassette lamps, sconces,
Chandelier connection,
Installation of a block of switches, sockets,
Connection of the incoming call.
These are only basic and most general data on the spectrum of our services.
Electrical installation work is carried out by specialists who have the appropriate access group performing the specified work accurately and strictly on time. All kinds of work are given a guarantee.
We carry out works both in apartments or private houses and in industrial objects, offices.
For all questions related to electrical installation work, please call: 8 (4012) 76 07 97