Last works
Updated 01/03/2017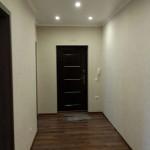 Learn More...
Frescoes in Kaliningrad — Affordable luxury
Additional specialization of our company is the creation of wall murals and wallpapers, thanks to
Long-term experience, the company «Evroremont» will create for you a very beautiful and refined art coverings in a variety of styles. Customers who apply to our company get exactly that refinement that can turn an ordinary interior into something unforgettable, stunning and most importantly unique.

Fresco on the wall in the interior is quite a new direction of decoration, but thanks to the fixed price, for this kind of work, many can afford such a beautiful decor. If you do not have enough of a highlight during the renovation of the premises, then this zest is found in the company «Evroremont». For example, additional luxury and chic decoration of walls are able to give gilded murals.
You can buy wallpapers, frescoes in our company, we offer our customers both ready-made versions, and we make frescos in the interior for individual projects.
To make, install the frescoes, the masters need experience and special skills, these qualities are possessed by qualified specialists of our company. Of course, due to the fact that time does not stand still, all sorts of technologies are developing, the procedure for creating frescoes has become much easier. However, even the modern frescoes on the wall, which many now decide to buy, are fraught with a huge number of secrets. This decoration of the walls is beautiful, reliable and durable, as it is highly resistant to moisture and light.
We manufacture and sell frescos on the wall, the price of which is the most profitable, since we value every client, and we want everyone to be satisfied. Wall murals can create a unique, harmonious atmosphere in the house and raise the mood.
For more information, call 8 (4012) 76-07-97
Artwork from textured plaster
From the last …!
01.10.2014 г.
10.10.2014 г.