Last works
Updated 01/03/2017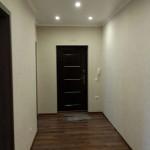 Learn More...
 Water heat floor in Kaliningrad
The company «Evroremont» is pleased to offer its services for installation of a warm water floor in Kaliningrad and the region.
A warm water floor is the ideal solution for heating an individual house, apartment or commercial premises. Heat from the warm water floor spreads evenly, from the bottom up, without creating hot zones and without burning the air. Warm water floors bring a new sense of comfort and coziness to the house. The huge advantage of water-based floors is that they are absolutely safe and durable! The service life is more than 50 years. This system is hidden from the eyes and is a modern, ecological way of heating. To such heating more and more resort resorts, cottages, private houses. On our account there are already more than 300 objects in Kaliningrad and the region!
Thanks to the adjustable regulators, the floor temperature can be adjusted by means of a programmable thermostat. The principle of the warm water floor is quite simple. On a special flexible pipe, the coolant circulates, the system of a warm water floor is installed in the floor, the connection occurs both from an autonomous heating system and from central heating. The warm water floor is universal. It can be mounted both during the construction process and in the finished house (in the finished screed). It is quite difficult to mount a warm water floor with your own hands.
Warm water floor is not fond of the surface, it can be installed under the desired surface in the house. Laying of a warm water floor goes under linoleum, laminate, parquet, tile, the main question in observance of necessary technological requirements.
With water-heated floors from the company LLC «Evroremont» you can be assured of the safety and reliability of the system.
Installation of a warm water floor can be made both from your material and from the material of the company «Evroremont»
And still, if you do not have skills in construction, we recommend that you turn to professionals and save money on preventing your own mistakes.
Experience and number of completed objects allows us to know all the details and subtleties in the installation of a warm water floor.
Warm water floor from professionals! Contact us for any advice!
Phone 8 (4012) 76-07-97
го пола.